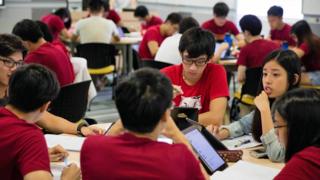 Singapore has the highest achieving students in international education rankings, with its teenagers coming top in tests in maths, reading and science.
The influential Pisa rankings, run by the OECD, are based on tests taken by 15-year-olds in more than 70 countries.
The UK remains a middle-ranking performer – behind countries such as Japan, Estonia, Finland and Vietnam.
OECD education director Andreas Schleicher said Singapore was "not only doing well, but getting further ahead".
Singapore, named as the top rated country for maths and science in another ranking last week, is in first place in all the Pisa test subjects, ahead of school systems across Asia, Europe, Australasia and North and South America.
---
What is Pisa? In three sentences
The Programme for International Student Assessment (Pisa) provides education rankings based
…
Read More