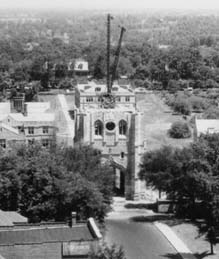 Memorial Tower under construction, 1925

University Archives is the depository of official records of the University of Missouri as well as of the administrative records of the University of Missouri System. University Archives also houses and preserves private papers, organizational records, and manuscripts that relate to the history of the University, the University community, and the University System.

University Archives is part of the MU Libraries at the University of Missouri.
Announcements
University Archives will be closed to the public beginning at
5:00 PM March 17th, 2020
and will remain so until further notice.
Please leave any information requests at
(573) 882-7567 or [email protected]
during that time and staff will respond regarding your request as quickly as possible.
Featured Exhibit:
































In designing this web page, the University Archives made every attempt to make their pages more
accessible to all people. To do this, this page and others
in this site were created using web standards and with many standard accessibility features, which
most modern browsers support.
All the information and functionality of these pages are available to all browsers, but they
may not look the same. For more information, please read our accessibility statement
or the information at the Web Standards Projects.
Back to the Top |
Back to the Content |
Back to the Navigation