Web of Science ResearcherID is now on Publons.
Publons is the new environment where you can benefit from
the improved Web of Science ResearcherID, add your publications,
track your citations, and manage your Web of Science record.
Log in with your usual details to see your ResearcherID
profile on Publons.
If you have any questions, please see the ResearcherID-Publons FAQs or contact [email protected]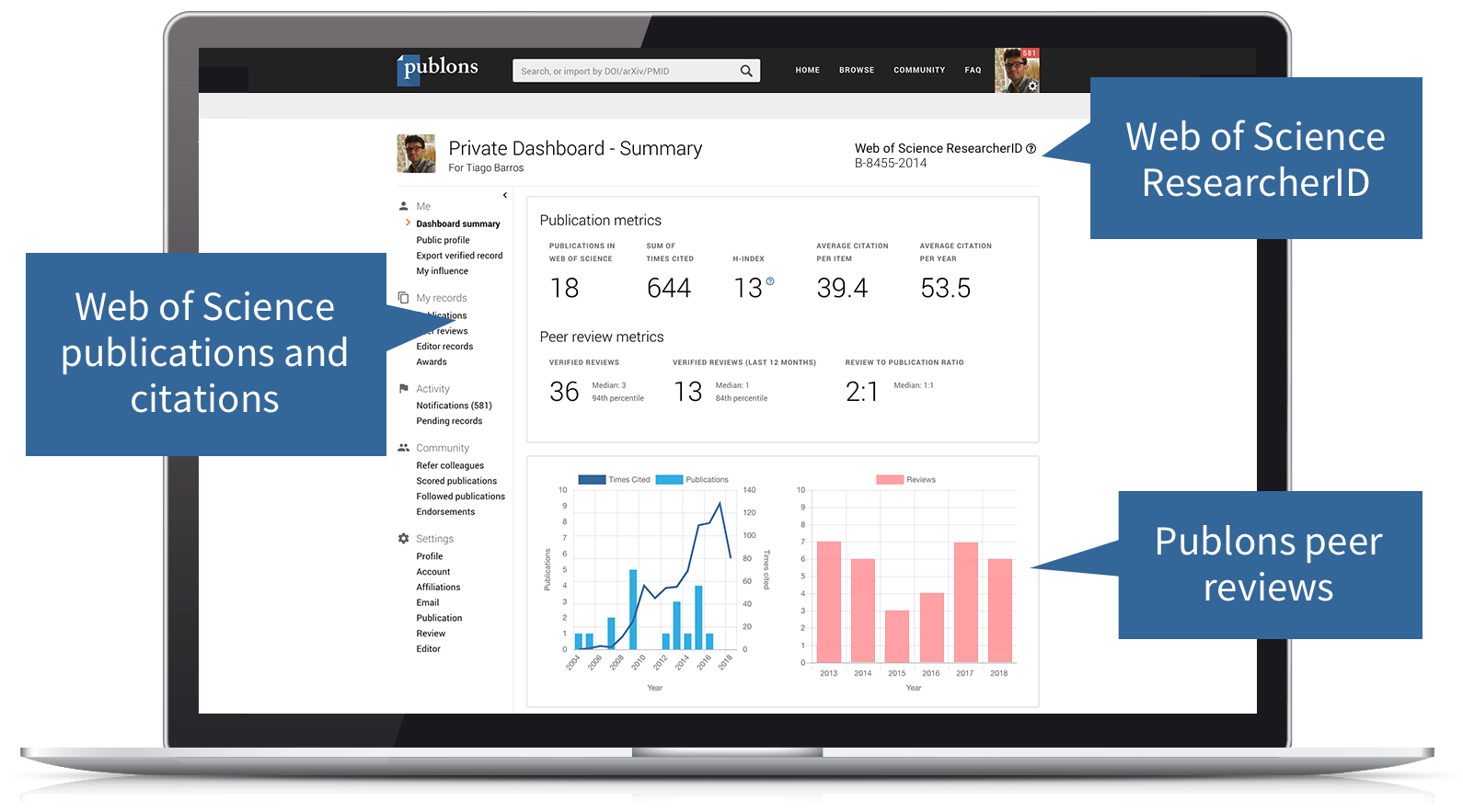 The Web of Science Group is investing in ResearcherID to make
the experience of managing and evaluating researcher profiles
more seamless, open, and connected for researchers,
administrators, and evaluators.
Profiles
Researchers around the world use ResearcherID track their
publications and ensure their publications are correctly
attributed to them across Web of Science collections. To make
this even easier, ResearcherID profiles moved to Publons on 15
April 2019. This move allows researchers to:
add publications, track citations, and ensure their
publication records are correctly attributed across Web of
Science (all for free and without requirement for
institutional entitlements)
build a more complete profile of their research impact by
automatically tracking their peer review and editorial
history right alongside their publications.
Identifiers
Web of Science ResearcherIDs are used by institutions and
funders as a persistent identifier to track researcher outputs
and to update publication records in Web of Science, ensuring
correct author attribution and disambiguation. To make this
even easier we are bringing the identifier closer to the Web
of Science Group's suite of products. Going forward, we'll be
using the Web of Science ResearcherID to keep publications
synchronised across the Web of Science Group suite of
solutions: Web of Science, InCites, Converis, Publons and more.
Administration
We are in the early stages of development of a suite of tools
to make it simple to administer records on behalf of researchers
and to access the resulting data. Potential offerings include:
A batch upload service, allowing administrators to submit
publication data that will populate Publons profiles, update
distinct Web of Science Author Records, and to assign
Web of Science ResearcherIDs (and links to Publons profiles)
to records across Web of Science collections.
A researcher-centric API, allowing institutions to access rich
information within researcher profiles for the purposes of
populating internal systems.
Administrative Publons accounts, allowing administrators to
aggregate outputs from multiple researchers in a single
view. These accounts are hidden to ensure we are able to
maintain the high data quality standards of Web of Science
If you are interested in testing any of these services,
email [email protected]
Please note, all of these services are in the early phases of
development and our approach may change as we learn more about
what you need.
If you were an existing user of the ResearcherID suite of
admin tools and wish to continue using them, contact us at
[email protected] Please
include information about your existing account.